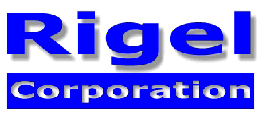 We offer a variety of 8051software which Rigel writes and maintains on our web site. Our online software with all of the help files, examples, and related text files may be used without fee by students, faculty and staff of academic institutions and by individuals for non-commercial use. For distribution rights and all other users, including corporate use, please contact:
Rigel Corporation, PO Box 90040, Gainesville, FL 32607
or e-mail techsupport@rigelcorp.com

We update our software regularly. Please come back and check out the latest version available here.

Attention: Installing our software constitutes your acceptance of the terms and conditions of the license agreement. Please read the license agreement before installation. Other rules and regulations of installing this software are:

1. You acknowledge you may not modify, disassemble, reverse engineer, translate, sub-license, rent or transfer electronically software from one computer to another, or make it available through a timesharing service or network of computers.

2. No liability for consequential damages. In no event shall Rigel Corporation or its suppliers be liable to you for any consequential, special, incidental, or indirect damages of any kind arising out of the delivery, performance, or use of the software. Even if Rigel Corporation has been advised of the possibility of such damages. In no event will Rigel Corporations' liability for any claim, whether in contract, tort, or any other theory of liability, exceed the any license fee paid by you.


8051 Software
Name

Size

Date

Description

Reads51 Version 4.20
SetupReads51.exe


1.79MB

4/06/06

Reads51 for Windows 95 / 98 / NT /XP. Reads51 v4.2 combines a Small C-compatible 8051 compiler with a relative assembler and linker. Also includes Enhanced Chip Simulator and single-chip mode.


Reads51.pdf
444,116
5/23/02

User's Manual for Reads51 Version 4.2

SetupRbHost

941K

8/15/05
BASIC Editor and Terminal Host
SetupRP51.exe
897K
5/16/06
Programming software for the R-51PB board
SetupRita.exe
1.33MB
8/20/03
RitaBrowser and Config Software
Using_Rita51.zip
18,245
7/19/02
Rita-51 Examples
wNetCat.zip
107657
6/29/03
Visual C++ project of NetCat, the Unix utility
SetupBaud.exe
674,781
02/11/03
Calculates Timer 1 reload values for a given crystal frequency and Baud rate.

11,863

4/29/02

A skeletal monitor program for the 8051. Intended as a teaching tool. You can download HEX files through the monitor using a terminal emulator, such as the Windows HyperText

SetupRix.exe
1,432,045
1/26/00
Utility Software to configure Rix51 Eval board for Intel's 51 and 251.

42,689

3/19/95

Compare OBJ files; HEX to BIN, and BIN to HEX conversion

29,846

3/18/95

8052 BASIC chip demos and download utilities with source

11,000

11/1/99

Xilinx equations for R-31JP and R-515JC

4,634

7/23/95

PAL (GAL) equations for Rigel's 8051 products

12,245

4/21/95

RROS monitor for the 16MHz 80C535 processor

READS51 version 3.0, RChpSim v 3.0
We no longer support these versions of the software. Download and use Reads51 version 4.20

1,229,715

3/19/97

Reads versions 1.x and 2.x with all utilities and demos, Use in a Windows DOS box, We do not support this software.

178,310

6/19/97

Chip Simulator V1.10, Use in a Windows DOS box, Download Reads51 v4.2 and use chip simulator located there unless you only have DOS on your PC. We do not support this software.

39,309

4/11/97

Rigel's MCS-51 Assembler for DOS (this is included in the Reads51 software) We do not support this software.